Bole To Meetha Lage Lyrics - Seema Mishra Lyrics
Roop Music Presents
"Bole To Meetha Lage"
a New Rajasthani Song 2021. This Beautiful Song Sung by
Seema Mishra
. Starring with Sp Jodha & Ratan Chouhan. Music is given by Mahesh Vyas (MV Musical Studio). penned by
Dhanraj Dadhich
. A Film by SP Jodha. Copyrights & Music Label by "Roop Music".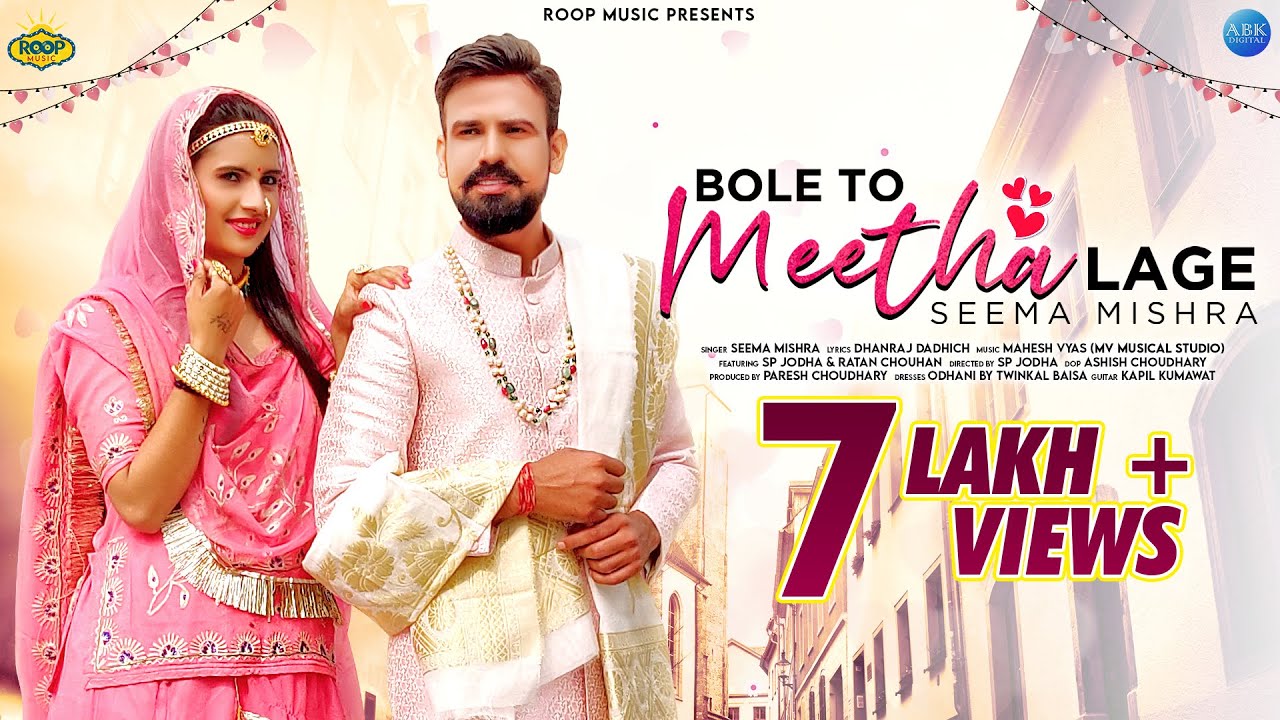 Bole To Meetha Lage Lyrics - Seema Mishra Lyrics
Bole To Meetha Lage Lyrics in Hindi
बोले तो मीठा लगे हँसे तो प्यारा लागे
लागे पियाजी मनभावना
बोले तो मीठा लगे हँसे तो प्यारा लागे
लागे पियाजी मनभावना
साँवली सूरत घणी सोवनी लागे है आरी
साँवली सूरत घणी सोवनी लागे है आरी
लागे पियाजी मनभावना
ओ लागे पियाजी मनभावना
चाँद सरिसो आरो है उनियारो
पिव आगे जग फीको सारो
चाँद सरिसो आरो है उनियारो
पिव आगे जग फीको सारो
चाले तो धरती राचे निरखू तो हिवड़े नाचे
लागे पियाजी मनभावना
साँवली सूरत घणी सोवनी लागे है आरी
साँवली सूरत घणी सोवनी लागे है आरी
लागे पियाजी मनभावना
बोले तो मीठा लगे हँसे तो प्यारा लागे
लागे पियाजी मनभावना
मोत्या सु भी म्हाने महंगा लागे
फीको है जग आके आगे
मोत्या सु भी म्हाने महंगा लागे
फीको है जग आके आगे
हिवड़े के माही बसाउ
आपे बलिहारी जाऊ
लागे पियाजी मनभावना
साँवली सूरत घणी सोवनी लागे है आरी
साँवली सूरत घणी सोवनी लागे है आरी
लागे पियाजी मनभावना
बोले तो मीठा लगे हँसे तो प्यारा लागे
लागे पियाजी मनभावना
Bole To Meetha Lage Lyrics in English
bole to meetha lage hanse to pyaara laage
laage piyaajee manabhaavana
bole to meetha lage hanse to pyaara laage
laage piyaajee manabhaavana
saanvalee soorat ghanee sovanee laage hai aaree
saanvalee soorat ghanee sovanee laage hai aaree
laage piyaajee manabhaavana
o laage piyaajee manabhaavana
chaand sariso aaro hai uniyaaro
piv aage jag pheeko saaro
chaand sariso aaro hai uniyaaro
piv aage jag pheeko saaro
chaale to dharatee raache nirakhoo to hivade naache
laage piyaajee manabhaavana
saanvalee soorat ghanee sovanee laage hai aaree
saanvalee soorat ghanee sovanee laage hai aaree
laage piyaajee manabhaavana
bole to meetha lage hanse to pyaara laage
laage piyaajee manabhaavana
motya su bhee mhaane mahanga laage
pheeko hai jag aake aage
motya su bhee mhaane mahanga laage
pheeko hai jag aake aage
hivade ke maahee basau
tape balihaaree jaoo
laage piyaajee manabhaavana
saanvalee soorat ghanee sovanee laage hai aaree
saanvalee soorat ghanee sovanee laage hai aaree
laage piyaajee manabhaavana
bole to meetha lage hanse to pyaara laage
laage piyaajee manabhaavana
थोड़ा सा निवेदन। क्या आपको सैन्ट Bole To Meetha Lage Lyrics पसंद है। तो कृपया इसे शेयर करें। क्योंकि इसे साझा करने में आपको केवल एक मिनट का समय लगेगा। लेकिन यह हमारे लिए उत्साह और साहस प्रदान करेगा। जिसकी मदद से हम आपके लिए सभी नए गानों के बोल इसी तरह से लाते रहेंगे।